Today India is Suffering from an epidemic Virus i.e. COVID-19 (Coronavirus) and The government is trying to make people aware to stop this virus. The Government of India has recently launched an app called Aarogya Setu to fight against coronavirus.
Aarogya Setu app helps to track the corona infected patients and also prevent the infection by sending alerts to the users. This app is continuously gaining popularity among the people and recently Prime Minister Narendra Modi has also asked people to download this app many times. At the same time, Aarogya Setu app has created a new record in the field of downloading. 5 crore users have downloaded this app in 13 days of launch.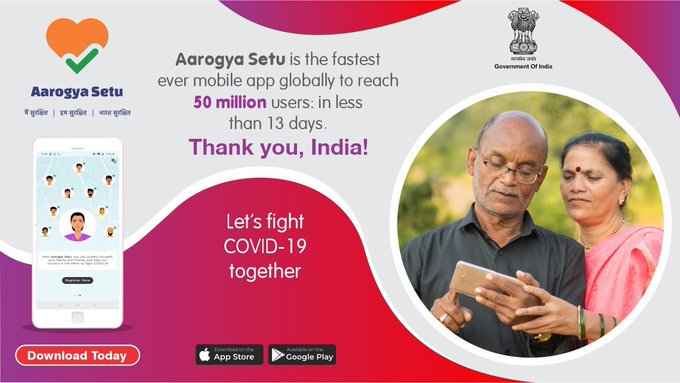 Image Via Twitter Handle of Amitabh Kant
NITI
Aayog CEO
Amitabh Kant
has informed via a post on Twitter that Aarogya Setu app has been downloaded by 50 million users in just 13 days and has become the world's fastest most downloaded mobile app in just 13 days. Let us know that the appeal of Prime Minister Narendra Modi has a lot of effect on the people downloading this app.
Telephone took 75 years to reach 50 milion users, radio 38 yrs,television 13 yrs,Internet 4 yrs, Facebook 19 months, Pokemon Go 19 days. #AarogyaSetu,India's app to fight COVID-19 has reached 50 mn users in just 13 days-fastest ever globally for an App
Salute the spirit of India! pic.twitter.com/xKqt3Tmj4f

— Amitabh Kant (@amitabhk87) April 14, 2020
The tweet also informs that the Aarogya Setu app has broken the record of the popular Pokemon Go gaming app. In 2016, Pokemon Go gaming app was downloaded by 50 million users in 19 days. After this record, the growing popularity of the Aarogya Setu app can be estimated.
Aarogya Setu is an app designed by the Indian government to stop spread of coronavirus. This app will alert when you come in contact with a corona infected person. Along with this, users will also be able to know from this app how much risk you have from this virus. This app is available in 11 languages ​​including Hindi, English and Marathi. Users can download it on both Android and iOS platforms. It is available for free downloading.